COVID-19 Notice
Protocol to Return to Massage Therapy Service
Updated February 2023

Pandemic Protocols Still In Place
With the increase in seasonal respiratory illnesses and the ongoing pandemic. masks are still required to protect the seniors and immunocompromised in my care.
My duty to protect myself and clients is a constant. If my screening and mask requirements are in conflict with your own, I can provide you with the name and number of massage therapists who do not have such restrictions.

If you are sick or feeling unwell you must reschedule your appointment.

In order to come in for a massage you must:
a) Wear a properly fitted face mask
b) Wash or sanitize your hands upon entering
c) Complete the COVID-screening test online
Self-Assessment Test Required Before Appointment
Click the link below and fill out 24 hours prior to your appointment:
---
What to Expect During Your Massage Therapy Treatment During COVID-19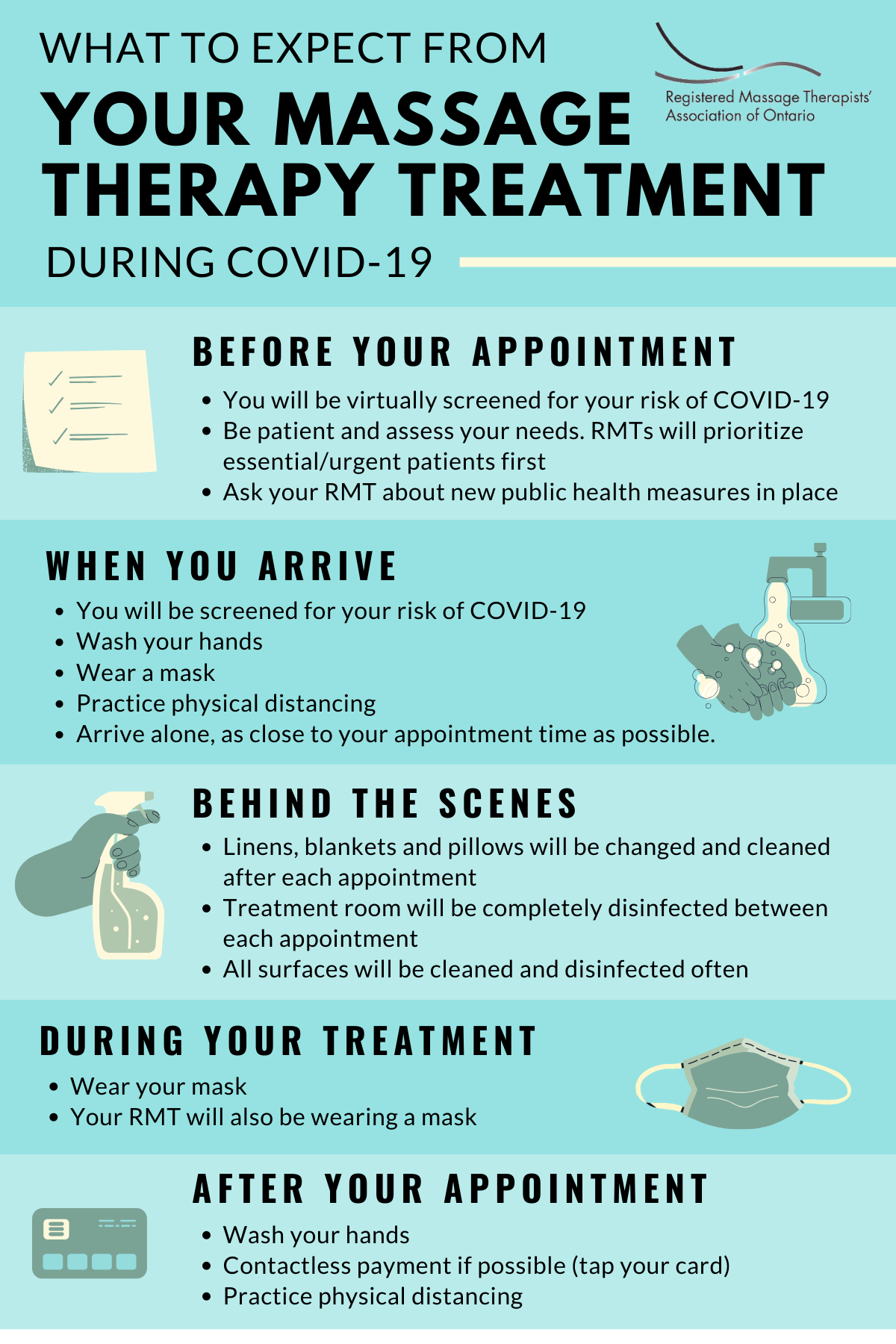 ---

How I Keep You & Myself Safe

Disinfecting after each appointment, frequent hand washing, and mask wearing.

Mask or shield required to enter the building & office. In the case that you forget, give me a call and I'll meet you at the outside entrance with a mask ($3.00).
Bring your own water. If you forget, box water (single use) is available.
Wash your hands when you enter and before you leave the studio.
30 minutes between each client is allocated to clean and disinfect the treatment rooms and studio, including extra cleaning for high-touch areas (door handles, washroom, etc.).
Waiting room is limited to 2 people at a time. Physical distancing rules apply.
Social distancing will be practiced in the studio.
Therapists complete Infection Prevention & Control Fundamental e-Learning.
All new equipment added to promote a healthy studio. Includes: air purifier; Robot vacuum cleaner; floor and carpet steamers; no-touch soap and sanitizer dispensers; increased sanitizing products.
Increased air flow in the treatment space. The window is open both during treatment and overnight. If it is too cool outside, the window is closed during treatment and opened after and in-between sessions.
Common symptoms that will rule you out for coming to the studio:
Fever (temperature of 37.8C or greater)
New or worsening cough
Shortness of breath
Sore throat
Hoarse voice
Difficulty swallowing
New taste disorder
Nausea/vomit, diarrhea, abdominal pain
Runny nose, sneezing, nasal congestion
---
Thank-you! If you have any questions, please do not hesitate to contact me.
– Yvonne Osondu, RMT